Iso accredidation – central public works laboratory (kede) license – calibrations – quality manual
Provided precision and quality of laboratory tests, is ensured by our accreditation ISO (ELOT ENISO / IEC 17025) and our annual equipment calibrations. We also apply Environmental Safety and Protection Rules.
"GEOT.ER. – DIDASKALOU S.P." becomes the first private concrete laboratory in Northern Greece, being accredited by E.SY.D. (Hellenic Accreditation System), according to ELOT ENISO/IEC 17025, at 21st of February 2006.
Our laboratory Instruments are constantly calibrated (usually annually, according to EN Specifications) by approved accredited laboratories.
ISO Credentials– Central Public Works Laboratory License:
Find attached the ISO Credentials and Central Public Works Laboratory (KEDE) License.
Our Laboratory applies Quality Manual according to ΕLΟΤ ΕΝ ISO/IEC 17025:2005.
Investigation Quality Program και Health and Safety Plan:
In order to perform Geotechnical Investigations and Studies, we firstly submit Investigation Quality Program as well as Health and Safety Plan, defining Project Coordinator, Geotechnical Investigations Director, Safety Engineer (which ensure compliance within the construction site and safety rules).
Appliance of Safety Rules on Borehole Drillings:
Reconnaissance of proposed borehole location and accessibility.
Identification of common wealth organizations underground pipes and cables, using special maps (e.g. Public Power Corporation cables, Natural DEPA's natural gas pipes etc.).
Shallow trench excavation to uncover common wealth organizations underground pipes or cables and installation of plastic tube, through which borehole drilling will begin.
Work areas of boreholes are thoroughly marked with safety markings and being protected with protective metallic grids, to avoid unauthorized personnel entrance.
Before and during movement of drill rig, as well as after its arrival to borehole location, additional safety measures are taken into account, such as setting warning cones, yellow flashing lights etc. Traffic Police might also be informed about drill rig movement in urban road network.
All working personnel comply with Personal Protection Equipment (P.P.E.). If working environment has indications of contaminants presence, the use of protective uniforms, gloves or special ointments may be used. Special Protective Equipment, such as breathing masks or special protective glasses, are used when necessary.
First aid kit is always available and all personnel is trained to provide first aids colleagues.
After completing investigation, all drilling equipment is removed, the site is restored to the pre-excisting site condition and all waste materials are removed, according to standard rejection rules.
Quality Manager and Executive Manager is Gregory Didaskalou, Civil Engineer MSc, with postgraduate studies at Imperial College London.
Technical Supervisor and Executive Manager is Vasillios Didaskalou, Civil Engineer MSc, with postgraduate studies at Imperial College London. He has undertaken to run the Quality Control Laboratory (Soil Mechanics Laboratory, Rock Mechanics Laboratory, Aggregates Laboratory, Concrete and Asphalt Laboratory).
The aim of company "GEORGE DIDASKALOU & Partners S.P.", with the distinctive title "GEOT.ER. - DIDASKALOU S.P.", is to provide reliable test results and generally to achieve and maintain the highest quality level, for provided services. To achieve that, the company has studied and installed Quality Management System, according to ΕLΟΤ Standard ΕΝ ISO/IEC 17025:2005, E.SY.D. documents, as well as any other specification relevant to the activities of the Laboratory.
Quality Management System: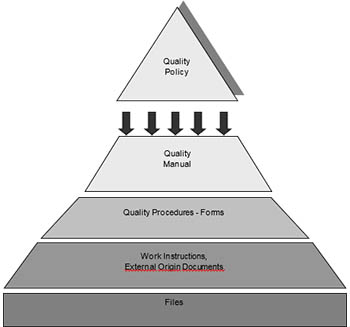 OPERATING LEVELS:
Α. STRATEGIC LEVEL:
Includes Quality Policy and Quality Manual.
Β. TACTICAL LEVEL
Includes the Procedures and Forms required.
Γ. FUNCTIONAL LEVEL
Includes work instructions, as well as external origin documents relative to the Quality Management System (standards, legislative framework, methods of laboratory tests, equipment technical manuals etc.).
Δ. FILES
Includes all files created during appliance of Quality Management System.
Environmental Protection Measures:
During field works, all working personnel take measures that ensure the protection of the environment. Indicative protection measures are as follows:
Restoration of working site after drilling, road accessing, trench excavating.
Reuse of drilling water, to minimize water consumption (when feasible).
Removal and proper disposal of soil and liquid remnants.
Thorough cleaning of working site after end of drilling works.
Emphasis is also given to fire prevention (mostly if drilling works are carried out in summer), especially at rich vegetation sites. Fire use is forbidden at working sites and the appropriate extinguishing equipment is always available, under the responsibility of Site Manager.
Installation of special oil collecting fabric (collecting oil leakages).
Avoiding tree cutting (using small, maneuverable drill rigs).